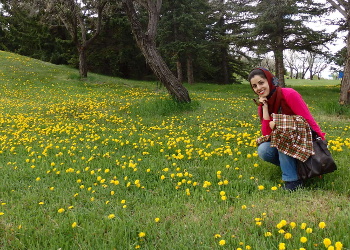 Phone: (403) 394-3915
e-mail: saeedeh@uleth.ca
Lab: EP 1219
Biography
Saeedeh received her B.Sc and M.Sc. degrees in electrical engineering, communication major in Iran. Then by studying about neuroscience she realized her passion in neural signal processing using engineering tools. Since May 2014, she has joined Dr. Aaron Gruber lab in Polaris group at CCBN as a PhD student to focus on her research interests which include electrophysiology, signal processing, machine learning and neural networks. Her project is recording and studying neural activities during decision making tasks.
Degrees
2013 M.Sc. in Electrical Engineering, Isfahan University of Technology, Isfahan, Iran
2009 B.Sc. in Electrical Engineering, Amirkabir University of Technology (Tehran Polytechnic), Tehran, Iran.
Recent Publications
M. Zoyousefein, S. Hashemniaye Torshizi, A. Ghorbani,"Security Limits for Electromagnetic Radiation from CRT Displays," 2nd International Conference On Computer And Electrical Engineering (ICCEE2009), Dubai, UAE.
H.Yeganeh, K. Faez, B. Ebrahimi, S. Hashemniaye Torshizi, "A New Method for Automatically Uniformity Measurement of Polymer Blends Using Image Processing Techniques," 16th Iranian Conference on Electrical Engineering, (ICEE2008), Iran.