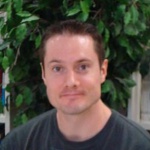 email:
maurice.needham@uleth.ca
phone:
(403) 394-3937
Biography
After obtaining a BSc in Biomedical Engineering at the University of Ulster, Maurice completed a PhD in electrophysiology of retinal arteriolar myocytes and retinal blood flow regulation at the Queen's University of Belfast in Northern Ireland. Following this, he obtained a Post-Doctoral research position studying TRP channel characteristics using the patch clamp method at the LCMS in the Queen's Medical Center in Honolulu and University of Hawai'i at Manoa. Currently, Maurice is using the Dynamic patch clamping technique and calcium fluorescence imaging to study electrical cellular behaviour and interaction in cortex and striatum brain slices.
He is also using optogenetics to investigate pattern formation in the somatosensory cortex and the role of dopamine in reward reinforcement. Maurice is currently co-supervised by Dr. Bruce McNaughton and Dr. Aaron Gruber.
Publications
Needham, M. A., McGahon, M., Bankhead, P., Gardiner, T. A., Scholfield, C. N., Curtis, T., & McGeown, J. G. (2014). The role of K+ and Cl-channels in the regulation of retinal arteriolar tone and blood flow. Investigative Ophthalmology & Visual Science, IOVS-13.
Stewart M, Needham M, Bankhead P, Gardiner TA, Scholfield CN, Curtis TM, McGeown JG. Invest Ophthalmol Vis Sci. 2012 Mar 16. May 17;53(6):3059-66. Feedback via Ca2+-activated ion channels modulates endothelin1 signalling in retinal arteriolar smooth muscle.
M Needham, MK McGahon, CN Scholfield, JG McGeown, TM Curtis, (2007a). Ca2+-activated Cl- current in retinal arteriolar smooth muscle. Microcirculation, 14: 635-665. Presentation.
Mk McGahon, M Needham, P Bankhead, CN Scholfield, JG McGeown, TM Curtis, (2007b). Ca2+-activated Cl- current in retinal arteriolar smooth muscle. Invest Ophthalmol Vis Sci. 2009 Jan;50(1):364-71.
P.D. Maguire, J.A. McLaughlin, T.I.T. Okpalugo, P. Lemoine, P. Papakonstantinou, E.T. McAdams, M. Needham, A.A. Ogwu, M. Ball and G.A. Abbas, (2005). Mechanical stability, corrosion performance and bio response of amorphous diamond-like carbon for medical stents and guidewires. Diamond and Related Materials, 14 (8): 1277-1288.
Membership of Societies
British Microcirculation Society
Institution of Engineers of Ireland