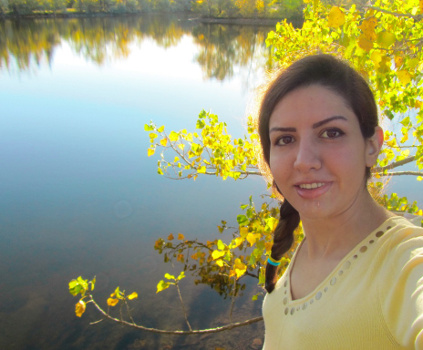 Phone: (403) 394-3915
e-mail: a.jalali@uleth.ca
Lab: EP 1219
Biography
Afrooz received her M.Sc. in Electrical Engineering-Communications from Isfahan University of Technology, writing her thesis on detection of specific type of signals in cognitive radio systems through signal processing techniques. She then realized that her real passion is studying brain dynamics applying her engineering skills. Currently she is pursuing her second M.Sc. in CCBN under supervision of Dr. Aaron Gruber, focusing her research on memory and learning.
Degrees
M.Sc. Electrical Engineering-Communications, Isfahan University of Technology, Isfahan, Iran, 2013.
B.Sc. Electrical Engineering-Electronics, University of Isfahan, Isfahan, Iran, 2009.
Recent Publications
Jalali, A., Omidi, M. J., Saeedi-Sourck, H., "Comparison of Nonquiet Spectrum Sensing in Filter Bank Multicarrier and OFDM Based Cognitive Radio Systems", in Proc. 21st Conference Electrical Engineering (ICEE), Mashhad, Iran, 14-16 May 2013.